JUST GO TO SHOWS
Guys, I know what you're thinking. You're thinking 'Nick WHO-again?'. Right? I hope I'm not right, because that would mean I'm a forgettable guy, and I haven't worn loud and terrible sweaters for my entire adult life just to be thought of as forgettable.
I decided to start logging with a B at the front again. I'm not sure why. It just feels right. But enough about what feels right; here are some things that do not feel right:
1.A shaky toilet.
2. A dirty toilet brush
3. Hair that has been washed in a toilet
4. Toiling on farms.
5. Using toilets on farms
6. Reverse-toilets filled with boiling water.
7. The fact that I moved out of my parents' house.
Yes I did. I did do that. It feels good, but it seems like you definitely deal with more strangers once you move outta the ol' folks' home. And you watch more awful television. Speaking of which, will somebody give me money to make a sequel to film Enough? It will be called Z'nuff.
Hey you sweethearts from Heaven-I have some upcoming shows.
The first is Thursday October 12th. It's called the hour of power. My cousin Jack Dylan did the drawings on the poster. The lineup is great.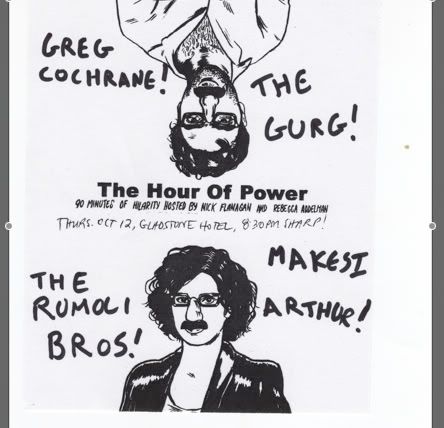 We do video intros for the show. Below is last month's:
Also, on friday October 13th I have the honor(alongside Ottawa's Daiquiri) of opening up for Neil Hamburger in Toronto, at Revival. The show should be at 9 or so. I recommend giving it a good going-to.
On saturday I'll be in Pittsburgh! I will have two cheesesteaks s'il vous plait!
Exclamatory points!
Please give me money that will pay my first and last month's rent! I'm not broke but I will be after I go to the zoo this weekend, because it costs so much, and because going there inspires me to donate all my money to animal bursaries.
Then tuesday October 17th I'll be at The Rivoli, showing my short play Bro-Thel at the sketch dot comedy lounge. It will feature Mike & Terrance Balazo, Makesi Arthur, Kathleen Phillips & Katie Crown. I look forward to it. Do you?
October 20th I'll be in Montreal with Brutal Knights, playing Caroline's birthday at l'escogriffe. The Ventilators & Terminal State are also on the bill. I'm sure some other rad band is as well. Here's what's happening in Sherbrooke the next day: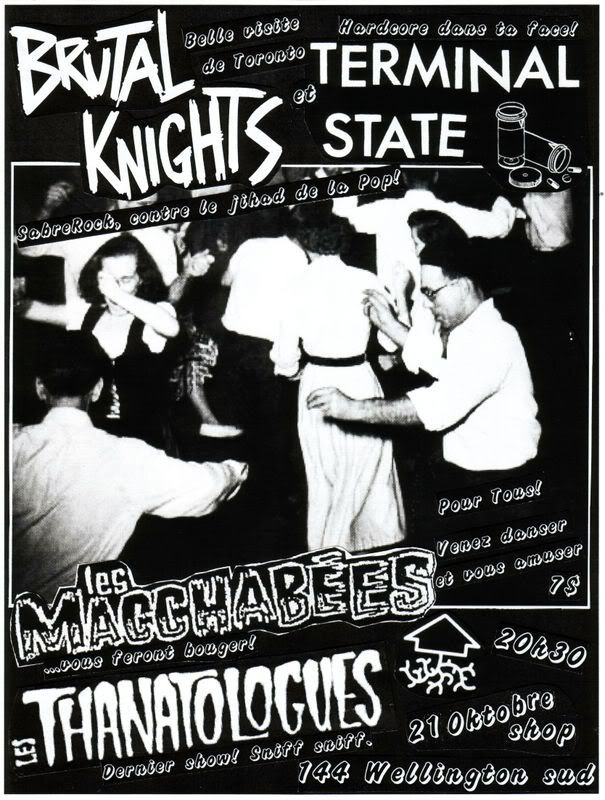 Then on the 22nd I'm doing comedy at the Dominion Tavern in Toronto as part of Boyd Banks' night. I'm stoked for that!
Another awesome awesome show occuring is Box Salon, at the Rivoli on Wednesday October 25th. I'll be doing comedy and numerous artistes will be doing other radical things. I'm going to be very very sexual that evening. Beware. Be aware.
Brutal Knights play The White Orchid with Regulations and The Bayonettes Saturday October 28th. Expect costumes. The show is late and the show is free.
finally...Joke Club celebrates its 2nd anniverary on tuesday, November 7th. More information pending. 'Til then, check out this weird thing I found on youtube:
phew! That drained the ol ballsack something proper.