The Gamey Commission
OK, so I took a little "blog break"-it couldn't be helped. I was in a highly busy period stuffed with shows and work and eating. A lot of goddamn mothfucking eating.
There were lots of shows. The Brutal Knights foray into Montreal went well-so well that we will be back on November 18 with CPC Gangbangs and The Confusers at L'Hemisphere Gauche. We should also be back in December.Also, the show at the El Mocambo with Fucked Up, etc. was killer. Really fun and if I weren't so exhausted I woulda partied like I was 20. Meaning 'with the intent of getting laid'.
The Joke Club 1 Year Anniversary show also went well, especially the first half. OK, only the first half. The second half was a gross jumble of unnecessary heckles and too many performers. I overstuffed the night and paid for it during my 'headlining' set, which devolved into me being drunk and hemming and hawing a bit too much while onstage. Oh well. Sorry to anybody whose set was unduly affected by my booking.
That's another thing-I have now taped all three sets I plan to use for my record. It's really exciting and good-feeling to have that part done. I'm gonna edit it and see what I have. I wish people had gone to see The Apes and The Modey Lemon show I played this past sunday. They both put on a grand show for everybody, and I made an Alpha Flight reference. By everybody, I unfortunately mean nobody, as the crowd was sparser than sparse. Whatever the case, my set occured and I will be using it on a record.
Even though mid-october to mid-november has been really busy for shows, I still have a few coming up. Looking way ahead, there's the next Joke Club on tuesday December 6th. That'll be good. But before then, I am MCing and doing jokes/commentary at an Honest Ed's Fashion Show this saturday.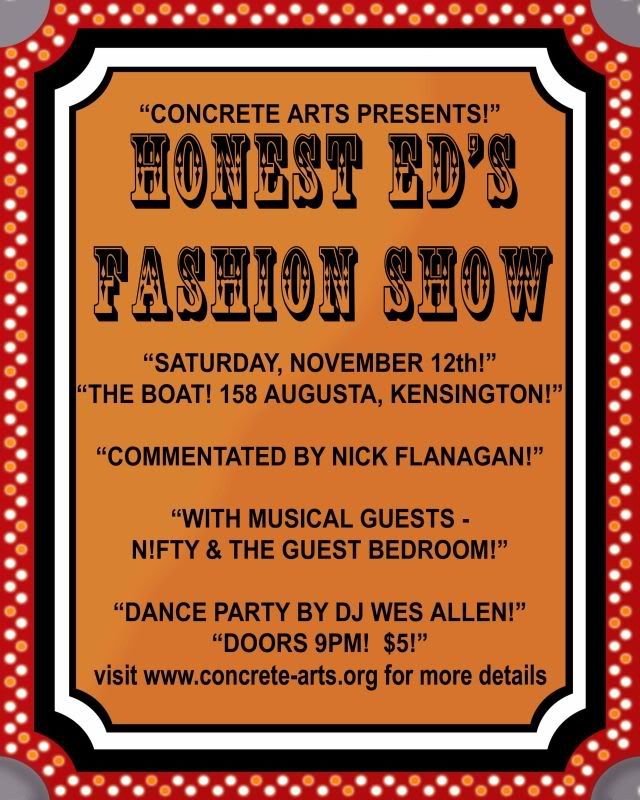 It should be really fun. After that it's the Montreal show I was telling you about, although I may also do some comedy wednesday night at the Oasis as part of Jared Sales' Side Show. Here's the rad poster for the Montreal show.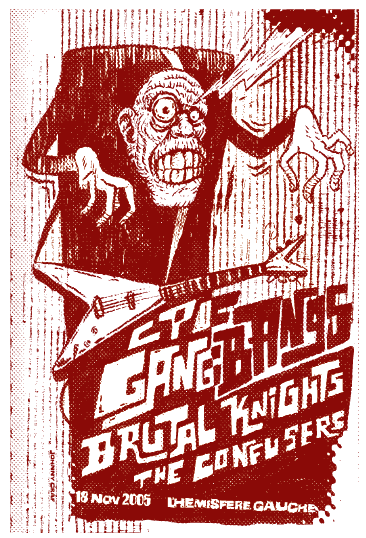 Then on Saturday, November 19th Brutal Knights play The Bovine Sex Club in Toronto with openers Ugly Stick. It's a co-birthday party for the Sharron brothers, who are our drummer and guitarist. It will be 'mossif', as 'Dizzeee Rascal' might call it. It's probably $5. Tell your a-hole's friends.
Sunday the 20th of November I was supposed to do a set in New York as part of the Loner Show's visit there, but now I don't think I can go. That being said, I will be submitting video and want anybody in the area to come check out the show. Thus, here is the poster.
I'm submitting video, and so is Rebecca Addelman and some others. It'll be good.
So that is the bullshit going down. Pretty fun stuff, I suppose.