If Wishes Were Fishes, Abe Vigoda Would Have Played A Character Named Wish, and The band Fishbone would switch names with the dog Wishbone
Tee Hee, me and my scintillating emboldened headings. Feeling emboldened, I will proceed. Life has been funnish at Camp Flanagan this spring! I've been doing my laundry regularly and taking baths. It's been like a vacation, but without the feeling of contentment, or knowledge of how to work swim trunks or a barbeque.
The Fatals were so so def good at the show we played with them a couple of weeks back.
They are France people. I've been writing more the past week. It's been fruitfulish.
I am trying to think of clever and funny examples of my funny cleverness to show off right now, but the only new joke I have is making my asshole weep...and I don't think you're ready for my weeping asshole mpeg. So we'll have to settle for a rundown of upcoming shows....
Do you live in Parkdale? Then tonight you should go to the Glasdstone Hotel , where at the newly-named Standup In Alpha Zones, my friend Mack will be telling video game jokes for the cost of FREE. You'll also get a sneak preview of some other folk to be playing Joke Club. Cheap pitchers and GTs. It starts at 10.
On Wednesday June 1st I'll be a proud jokester at The Oasis, as part of Let's Get Hot with Chris Locke of the Gurg hosting and Terrence Balazo, Fraser Young, Aaron Eves, Sara Hennessey, Pat Thornton, Paul Schuck, Brian Barlow, Jared Sales also playing. It's part of this thing called Righteous Wednesdays, which is every wednesday of the month at the Oasis, one week hosted by Chris, the other by Jared Sales, another by Paul Schuck, Brian Barlow, Chris Locke and Michael Balazo as The Cinnemen. Exciting!
AND THEY'RE ALL PWYC and at 9 PM.
Then on thursday I'm gonna try and hit up the Hot Box Cafe.
On Friday is THE BIG ROCK SHOW. Such sweet bands are playing. Here's the flyer: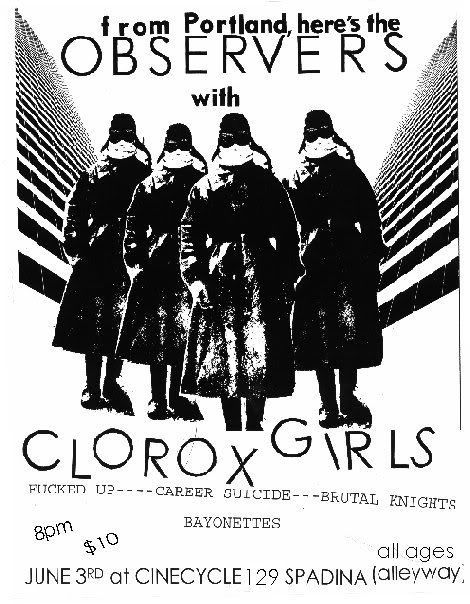 try and deny the radness. Tis impossible.
Then on Tuesday June 7th, I'm right back in the swing of things, because it is the day of Joke Club. Here is the lineup as of right now:
Randy Hughes
Mack Lawrenz
Gilson Lubin
video from TV Carnage
Sandra Battagliani
Gord Disley
Tim Nasiopolous
Joseph Ross
This dude Warren whose last name I forget
Adam B Picard
Terrence Balazo
a speech from David Dineen-Porter
MC Nick Flanagan
also DJ PRODUCT PLACEMENT is our special musical guest. This was Jeremy Finkelstein's first foray into muscial amazingness, and if you have never gotten the chance to see him before, this is that chance. LETS DO THIS SHIT.
The shows don't stop though!
June 8th is The Loner Show. it's at the Oasis and it's the second week of Righteous Wednesdays...meaning it's PWYC. It's always a great night and I'll be doing a piece at it as well.
Friday June 10th I'll be doing comedy alongside two other acts who have also opened up for Neil Hamburger, the Tuna Helpers and Daiquiri, as well as Robocopp and Boxxx, at a bar called Mega City, at 669 Queen W, west of Bathurst. It's $5 and starts at 9.
There are tons of other shows. I should be in NYC in late July too...so if anybody knows cool stuff I could joke at there, please let me know...and there are a couple of wee tours in the works too. Very exciting!