Let me take you "higher"
by coming out and seeing me at the Hot Box Cafe tonight at the back of Roach O Rama. It starts at 8 and costs $5, I think. The Hot Box Cafe comedy night is pretty ridiculous--basically, 4-8 people go up to a super-stoned crowd that tends to respond quietly and overly judiciously to the comics. Comedy critic Andrew Clark brought it up in a review in the Toronto Star today, saying a girl named Michelle Shaugnessy had the standout response. I've never seen her, but I don't strictly judge standup by the immediate crowd response to their work. If you're capably broad, people will like you. It's just math. The best comics, to me, are those who are specific yet somehow remain universal. It's a difficult thing to be, and it seems a difficult thing to maintain as well. Silence greeting The Hot Box is not the sign of a displeased audience, that's all I know. Maybe it is the sign of an audience that doesn't value comedy as much as some think it must be valued, but in my opinion a lot of standup isn't as funny as conversations among friends, so we comedicans should all just try to be funnier than most friends, is what I'm saying. Especially Ross.
Anyway, stonedness tends to bring out the inner ice-griller in a crowd. At the same time, an onslaught of comedians is bad for anybody's soul, so I can understand their ambivalence. On the other hand, I have a hangnail. My right hand, to be exact. Whatever the case, Hot Box is a fun place to be, and at the least it is an interesting event. Moving on, we made the flyer for the next joke club. It looks kickass!!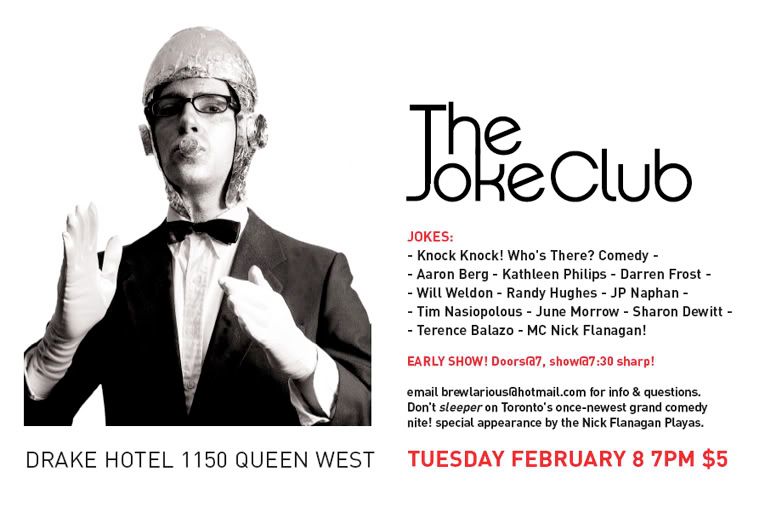 Please also note that Brutal Knights have the show at the horseshoe tomorrow, Jan.28, and we go on at 1130. And if you miss that for whatever 'reas', you can go see us with BBQ vs King Khan at the Silver Dollar next thursday, feb. 3. 'Twill be wunnerful.