Box Day
OK, so yesterday I wrote my sad thoughts on L'Afterparty while under the influence of a severe bout of Christmas day depression. Today I am slightly better. All in all, the only things that hurt about L'Afterparty was that my final set was so shitty and that didn't have a million-dollar profit. OK, upon writing that, I realise those facts still hurt. I'm going to make up for it by leaving the house and buying something nice for somebody--the one present I'm buying this year.
Here's some upcoming shows I'm playing:
December 31@Thymeless, $5: I'm doing comedy and the countdown for New Year's at Doing It To Death, another place where an awfully received comedy set by me has occured, alongside a band that includes most of the Creeping Nobodies, No Dynamics, and 'wonderful'-man band BBQ. This is the place to be for New Year's Eve if you are trying to be cheap and cool!
Joke Club@Drake Hotel, January 4th. $5 Here's the flyer: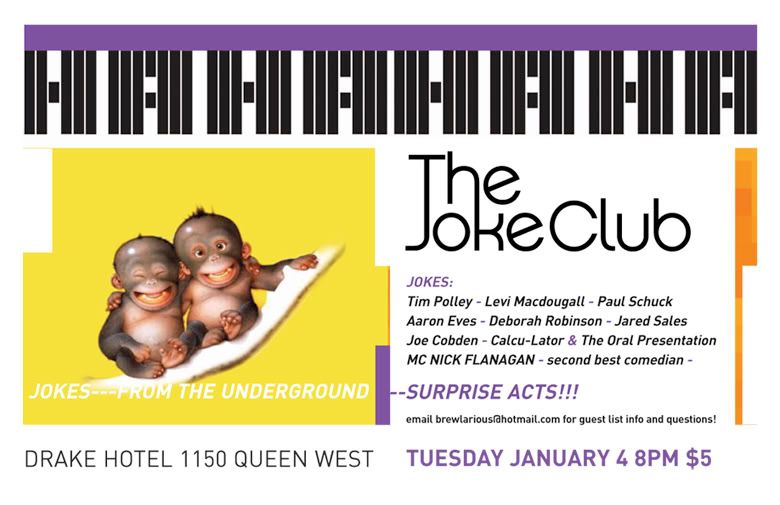 Also playing are white-belted Wavelength regular and cartoonist Matt Collins, David Dineen-Porter and Mister Anonymous. I have 25 guest list spots open. Let me know if you'd like to go free!
January 16th: Old York Tavern anniversary show@ The Old York Tavern. Free! One of my favourite open mics celebrates its second anniversary, and I'll be there to help. Huzzah.
January 17th: Alt Comedy Lounge@The Rivoli, PWYC, 830. I'm scheduled to appear at the Alt Dot, which is always an exciting and fun thing for me. As the Scottish might say, I 'cannae wait'.
There are other shows coming up to! And then in February...west coast tour.
Hey! I got a nice mention in Eye Magazine's(a Toronto weekly) standup roundup. Here's what Joel Mcconvey said in regard to me:
"Deadpan meta-riffer Nick Flanagan likely won't be playing amphitheatres anytime soon but his continuing transformation into the bastard son of Neil Hamburger and Stephen Wright is both puzzling and hilarious (if in a mildly uncomfortable way) to watch."
Hopefully I play an amphitheatre soon. My mother didn't like that part, or the 'uncomfortable' part, but then again, she's never seen me play, so what she really know ('bout my dirty mouth)?
Looks like 2005 is gonna be shittily busy...maybe this is the year where I actually won't need a day job. To quote ALF: HA!